Water Conservation
By Madeline Pelc
Gannon University Student Contributor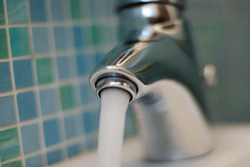 Saving Money One Drop at a Time
Did you know a leaky faucet can on average waste up to 20 gallons of water a day? In two weeks a leaky faucet can waste up to approximately 280 gallons of water.
The Erie Water Works has set up multiple improvement projects during the last two years. They plan on spending $95 billion dollars in order to provide a reliable supply of high quality water to their consumers. While they are hard at work, here are some ways we can help and make our homes more water efficient.
How to Save Water at Home?
Turn off your faucet while brushing your teeth or shaving
Install a faucet aerator in your bathroom and kitchen
Make sure when doing dishes or cleaning vegetables you use a basin
Do not use your toilet as a waste bin
Only use your dishwasher if you have a full load
Creative Commons image by Peter Dutton