Cascade Creek Stream Restoration Project
By Craig Schill 
GreenEriePA Writer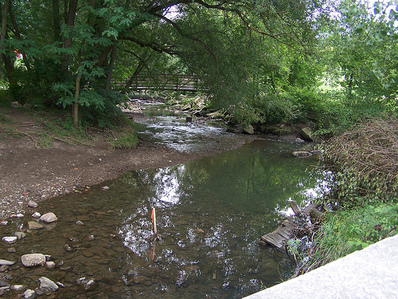 As many Erie residents know, Cascade Creek is one of the many streams running through the region that eventually empties into Lake Erie and makes up about a quarter of the Presque Isle Bay watershed. What many may not realize is that problems have been encountered over the years involving storm water runoff and erosion of the creek. However, efforts have been made to help correct the severe erosion problems and improve the water quality of the stream as well as wildlife habitats. Pennsylvania Sea Grant, along with Environment Erie (formerly Pennsylvania Lake Erie Watershed Association or PLEWA) and the Erie County Conservation District (ECCD), have teamed together to make these improvements. The location of the project is in Frontier Park, located between West 6th and 8th streets near the Bayfront Highway.
Since 2004, phases I (completed in 2006) and II (completed in 2010) of six Cascade Creek restoration projects have been completed. The work of the first phase restored about 500 feet of the West Branch of the creek in 2006. In 2010 phase II restored an additional 330 feet of stream, and with both phases complete it is estimated that more than 150 tons of sediment have been eliminated in the stream annually. Bank stabilization was also done during this part of the project. What can be seen from these construction efforts are the log vane deflectors and root wads in place as well as rock weirs and toe rocks that all aid in deflecting water towards the middle of the stream to avoid erosion along the stream banks. Log vane deflectors are logs that have been buried in the stream at one end and at the bank at the other end to help deflect the flow of water towards the center of a stream, while root wads are tree roots that have been installed in a streambank to reduce erosion. A rock weir is a row of rocks placed across a stream perpendicular to the flow in order to slow the velocity of the water, and toe rocks are placed at the bottom of the stream banks in order to reduce erosion.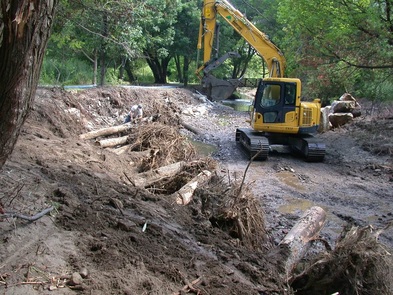 Phases III through VI include the following:
- Phase III: 1,100 feet of construction on the stream and streambank in order to eliminate over 120 tons of sediment per year. Removal of a wall that was once built to attempt to mitigate problems with the stream has been removed. All construction and planting activities concluded in October.
- Phase IV: Addition of a 25-foot buffer for 700 linear feet of Cascade Creek which helps to restore the habitat. This project is part of the Currie landfill restoration which remediates a hazardous waste dump from the mid-1900's. The site will be capped with a layer of clean fill, and man-made wetlands will filter runoff from this future recreation area that eventually enter Cascade Creek.
- Phase V: Restoration of an additional 450 feet of the creek, including improvement of water quality and wildlife habitat, restoration of the channel diameter, returning the banks to a natural state, restoring the vegetative growth near the stream, removing an obstructive building and "greening" a parking lot, and posting educational signs describing what has been done. This phase will help eliminate about 98 tons of sediment per year. Construction activities have concluded. Planting of a vegetated riparian buffer is to begin November 5th. This will include 1,800 plants; all native species.
- Phase VI: This will involve an additional 700 feet of restoration similar to and immediately upstream from phase V. The old United Oil Refinery bridge will be removed and the existing bike trail that is currently being undercut by streambank erosion will be repositioned further from the stream and will employ porous pavement. This phase will result in elimination of over 60 tons of sediment per year.
The purpose of this project is to make efforts to restore the natural environment of Cascade Creek and its direct surroundings. Fish and insect repopulation is an aim as well as attempting to create a better habitat for birds to nest and visit. In planning this project, designers looked at past examples of streams similar to Cascade Creek.
Already, it can be seen that this project has helped to improve the quality of the water in the stream and the wildlife has become more vibrant.
For more information about the project or for advice on environmental landscaping and stormwater management, contact David Skellie of Sea Grant by e-mail (dus18@psu.edu) or by phone (814) 217-9014.
Photos courtesy of Craig Schill and Tom Cermak