Septic System Workshops
By Catie Strout
GreenEriePA Intern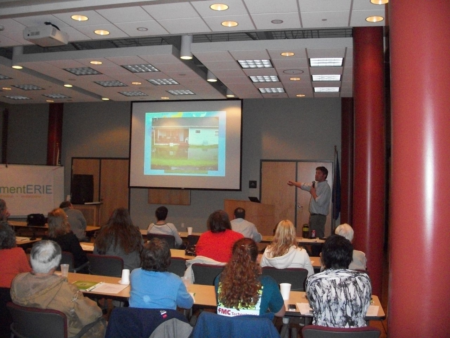 On Wednesday, May 18th and Wednesday, May 25th from 6 to 8 pm, Environment Erie will be hosting a Septic System Improvement Workshop at the Tom Ridge Environmental Center. An additional sponsor for this event is the Pennsylvania Department of Environmental Protection.
During this workshop, Environment Erie will discuss methods for local homeowners to protect their watersheds and septic systems. Through consistent upkeep of their septic systems, homeowners can not only ensure the water quality for their families, but also for freshwater aquatic species as well.
"The septic system workshops will be beneficial to homeowners because they will learn why it is so important to continuously protect the watersheds we live in and how they can reduce the amount of excess nutrients entering our water ways," says Environment Erie's Kaitlyn Vitale. "The homeowner will then be eligible to apply for funding to make improvements or repair their septic system."
Funding may also be available for homeowners who attend the workshop through the Pennsylvania Department of Environmental Protection's "Grower Greener" program. This financial aid can be utilized by families in the process of improving their septic system. An application for funding will be available at both workshops, with a $10 fee.
The Septic System Improvement Workshop has a $15 fee with limited seats available. Homeowners may only attend one workshop.
For more information or to answer any questions you may have, please call (814) 440-5992.
Photo courtesy of Environment Erie