Conserve Water, Utilize your Rainwater with a Rain Barrel!
By Kyle Volkman
Student Contributor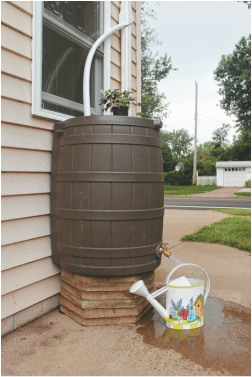 Environment Erie Rain Barrel, Photo Courtesy of Environment Erie -->
Water. We drink it. We swim in it. We bathe in it. We use it for cooking. As water flows from our faucets, it's easy to fool yourself into believing that water is plentiful and abundant. Yet, nothing could be further from the truth.*Water use has been growing at a rate twice that of population increase in the last century. By 2025, 1800 million people will be living in countries or regions with absolute water scarcity.
Rainwater is a natural source of water that many people don't make use of. This region in particular – for better or for worse – sees plenty of rainfall. According to the National Climate Data Center, Erie, Pennsylvania has seen an average annual rainfall of 42.93 inches from 1990-2014 while the national average in the same span only totaled 30.93 inches. There are definitely plenty of ways to conserve water, and Environment Erie is popularizing the use of a rain barrel to collect rain water.
Dubbed "Stormwater, the new "Blue Gold," Environment Erie has organized stormwater workshops for the past couple years. The workshop covers many topics. It teaches how people can reduce the impacts of stormwater runoff, harvesting rain water, and the importance of growing native plants in landscaping projects. Participants even receive their own rain barrel. While they hold several workshops a year, 2015 is all booked up. These workshops are hard to get in to, so if you are interested look on their website in the fall for 2016 dates.
A heavy thunderstorm can dump from 100 to 1,000 gallons of fresh water on your roof. Collecting this fresh water in a rain barrel keeps the runoff away from the stormwater system and saves the water for uses like watering a garden. A rain barrel can collect around 1300 gallons of water in a summer. How it works is fairly simple: connect a rain barrel to your house's downspout, let rain collect in the barrel, access the water at the bottom with a spigot.
DO IT YOURSELF GUIDE: 
http://www.diynetwork.com/how-to/outdoors/structures/how-to-create-a-rain-barrel

*Source: 
http://www.wri.org/blog/2013/12/world%E2%80%99s-36...