Diehl Elementary Students Lead Rain Barrel Project
By Kyle Volkman
Student Contributor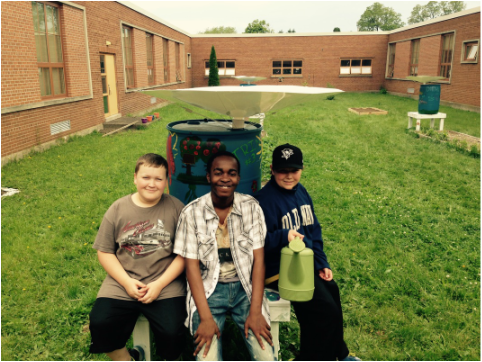 When educating the world on how to live the "green" lifestyle, it is often best to start with our youth. Whereas adults are often hesitant to accept new information or change lifelong habits, younger generations can grow up with environmentally-friendly practices and learn about our impact on the environment in school. The Department of Environmental Protection (DEP), Environment Erie, Diehl Elementary School, and Diehl's students came together earlier this month to improve water conservation at the school.

Science Teacher Lindsey Dahl, School-wide Specialist Barb Gates, and Environment Erie Education Manager Nate Millet coordinated the Earth Action project. Earth Action is a program of Environment Erie that pushes youth and educators to make a difference in the watershed where they live, work, and play. Funded by a Growing Greener grant from DEP, Environment Erie and Diehl Elementary worked together to install four open rainwater collection systems in the form of rain barrels. These rain barrels were decorated by students.

The rain barrels, being that the school does not having any down spouts, is the first of its kind to feature a large funnel at the top. They will be used to fill watering cans to provide water for a raised garden bed near the school. The garden hosts onions lettuce, corn, broccoli and other plants.

Principal Dana Gilmore made a beautiful remark about the project. "[The students] take ownership of their learning and get excited about it," he said. "It gives the kids a positive reason to come to school every day."

The students really led this project themselves. The students did the planning, research, design, and implementation. DEP and Environment Erie simply gave them the guidance and resources to bring it to life. It is this type of hands-on, active learning that gives students something to be passionate about. They will take this education with them and share it with others. Collecting rain water will be a "green" practice that carries on with these students.

Collecting rain water won't be foreign but familiar. Being green will be natural and normal rather than a burden.
Photo Courtesy of Nate Millet