Paper or Plastic? Cloth!
By Janna Reynolds 
Gannon University Student Contributor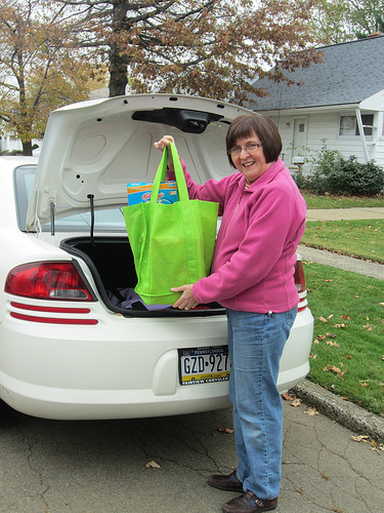 We've all had those inconvenient moments when the cheap plastic bag containing all our groceries breaks, causing everything to spew onto the ground. Or how about the top of the paper bag we're holding that rips away from the whole just a few steps away from the car? We can avoid such hassles completely by using cloth bags that can be depended on to hold up against the weight and sharp corners of our purchased products. Cloth bags won't rip, tear, or stretch out the way paper and plastic bags do. Reusable cloth bags are the perfect solution to reducing the use of paper and plastic bags.
According to the Sierra Club, the U.S. uses approximately 100 billion plastic bags each year. Almost all the produced plastic bags end up in landfills or are dumped in the ocean. Plastic bags are made from natural gas or crude oil and never completely decompose. Instead, they break down into tiny, very toxic particles, which pose a huge threat to marine wildlife. According to Environment California, an estimated 100,000 marine animals are killed each year after ingesting the plastic. 
It is important to recycle the bags you have stored in your home. While no facility in Erie has the sole purpose of recycling plastic bags, many stores in the area supply collection bins for that purpose. Recycled plastic bags are made into the following products:
Crates
Composite lumber
Pipes
Containers
The best way to make your shopping trips environmentally friendly is to reduce the amount of paper and plastic bags you use by switching to cloth bags.


Photo Courtesy of Carolyn McIntyre