Start an Office/School Recycling Program
By Craig Schill
GreenEriePA Writer 

What's Involved with an Office Recycling Program?

A school or office recycling program is a great way to not only be environmentally friendly yourself but to get coworkers and friends involved as well.
Determine what you are going to collect: paper, plastic, aluminum, cell phones, toner cartridges, batteries?
Gather some collecting bins which will be used for recycling. Each bin should be marked for what kind of material is to be placed into each receptacle.
Contact a local recycling center like Lincoln Recycling to discover if there are recycling charges by weight and to learn which items can get your organization money.
Talk with management or a teacher/principal to gain support and work out details about who will collect the bins and to discuss funding sources for possible fees that may be involved. Individuals must be assigned to take the materials to a recycling center or a contract must be secured by a private firm like Waste Management. Some funding may be needed for recycling some of the items (like batteries, electronic waste) while money can be earned for other items (like aluminum and tin cans).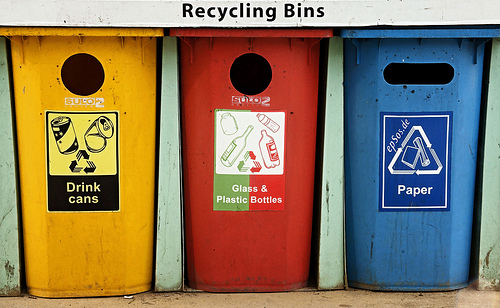 Why Start a Recycling Program?
It gets more people involved with recycling.
Recycling centers may actually pay money to receive 
items.
It's a good way to get volunteer hours for a school club or 
organization.
It keeps more garbage out of landfills.
Creative Commons Photo by ep.Sos.de