The Juice Jar Provides Erie with a New Food Option
By Julia Fulton
Gannon University Student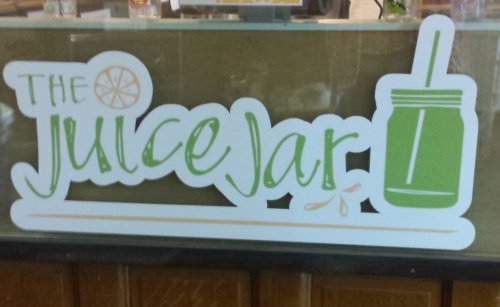 Perhaps one of the most recent trends in the food industry is the juicing craze. Juicing takes fresh fruits and vegetables and cold presses them to extract the juice. One Erie women has turned this trend into a full-time job!
Heidi Lutz used her business degree and turned her interest in living well, choosing organic options, and buying local foods into a business, and so much more. The Juice Jar, located in Colony Plaza on West 8th Street, serves not only cold pressed juices, but various other healthy and local food options. Juices and smoothies are made fresh-to-order, and soups and salads are available on an ever-changing, daily menu. Juices and smoothies can also be custom made by the customer, with the guarantee that if the customer does not like it, Lutz will drink their creation. There are many fresh, gluten-free pastry and bakery items to choose from as well.
Lutz said that the inspiration for her business came more from necessity than pleasure. After being diagnosed with Crohn's disease, she had to adjust her diet. By choosing more organic options, such as juices, Lutz found the symptoms of Crohn's to be less severe. Eventually, these changes resulted in her no longer needing medication. Today, she hopes to share her message with the customers of The Juice Jar by providing them with healthier food options and an open community space.
"I really want everyone to feel welcome; like they're at home." Lutz said, "We're starting to have live entertainment and classes as well."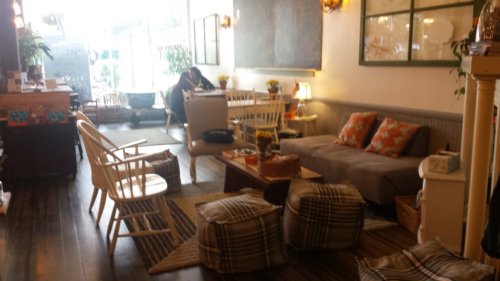 Many students come for a bite to eat and stay for a while to study. The Juice Jar offers a 10 percent discount for students, as well as 50 cents off a juice beverage when customers reuse glass bottles from a previous purchase.
Bottle recycling is not the only sustainable aspect of The Juice Jar. The store was transformed from an old deli into the healthy food café. Ninety percent of the materials used in the remodel were reclaimed from other spaces. Local artisans also have some of their products for sale within the store, such as jewelry, candles, and honey. Lutz even has plans to transform the roof space into a greenhouse and sustainable living area.
The Juice Jar is located at 620 West Eighth Street in the Colony Plaza. The fall hours are Monday through Friday 9AM-6PM, Saturday and Sunday 10AM-5PM.