Why is it so Buggy?
By Gerald Stumpff 
Gannon University Student Contributor 
Why is it so buggy this year? If you have ever heard someone complain about this problem, this is not a bug problem it's a bat problem. Dr. Steven Ropski Director, Science Program, Morosky College of Health Professions & Science in the Biology Department at Gannon University has an answer to the question or complaint: a single bat eats up to six hundred insects an hour.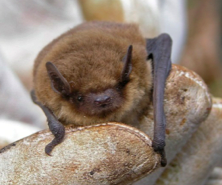 He says, "Bats filter diseases that affect plants and humans. For example, the West Nile Virus affects and kills native species like raccoons and skunks that can endanger the lives of humans." Without bats the insect population is not maintained and hundreds of insects turn into thousands of insects. 
In the state of Pennsylvania and other states on the east coast, the bat populations are drastically diminishing. Since the outbreak of White Nose Syndrome, 5.7 million bats have died in the east coast and even into Oklahoma. Research can only assume that cave explorers accidently passed WNS to the bats or rats. WNS is a fungus that forms on the bats noses and wings. WNS causes the bats to scratch themselves burning energy and they leave the cave to freeze in the cold temperatures of winter. 

Another danger to bats is wind power, more specifically large scale turbines. Dr. Ropski paints the picture of a bat being a baseball and the wind turbine blade being the baseball bat and it's not good for the bats when they are in their migratory stage of the year. 

In Erie places like St. Peters Cathedral and other churches are homes to the different species of bats. Dr. Ropski and Gannon University students walk around the Gannon campus monitoring the bat population. Ropski explained, "The bat population is a migratory population because there are no caves in Erie." He says even though there are no caves in Erie, eastern and central Pennsylvania have caves and the bat population that flies to Erie has diminished over the last few years due to WNS. 

What's currently being done in Erie? Dr. Ropski goes to grade schools and other community places like the Jefferson Society to educate people about bats and the importance they have on the environment. 

If we understand bats in their hibernation stage and why they are plagued with this presently incurable White Nose Syndrome then the populations will start to make a comeback and outbreaks of West Nile Virus and other harmful diseases will drop. 
For more information on bats, see: http://www.batcon.org/