Why Hiking is Beneficial
By Sherry Ziesenheim 
GreenEriePA Writer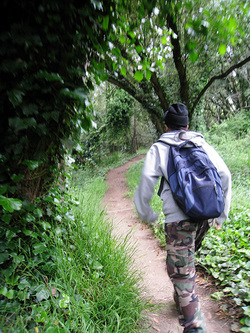 Why should I hike?
Hiking trips cost less than road trips
Sight-seeing on foot is priceless
Hiking conserves fossil fuels (unleaded gas, diesel, etc.)
Along with an environmental/economic benefit, hiking has excellent health benefits
A 200 pound person burns an average of 500 calories/hour
Lowers your risk for cardiovascular problems
Reduces blood pressure, cholesterol, and fat
Helps with mental processes and controlling body weight while also helping to prevent osteoporosis
Additional Resources:
Presque Isle State Park: Includes information about Presque Isle State Park discussing the beaches and trails along with activities that can be done at the park.
Hiking Near Erie, PA: This site includes links to hiking locations in the Erie area at Glenwood, Lawrence Park, Wintergreen Gorge (near Penn State Behrend), and Erie Bluffs State Park.
Winter Green Gorge: Includes reviews of the Wintergreen Gorge trail.