Boating and Kayaking in Lake Erie
By James Moran 
Gannon University Student Contributor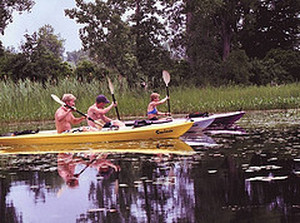 There are 9,910 square miles of warm, clean water making Lake Erie one of the most recreational and boater friendly bodies of freshwater on the planet. Presque Isle, of Greater Erie, is the best source for locals and tourists to entertain themselves in Erie, especially if you are interested in renting any type of watercraft. Have you never used a kayak or small boat before? Beginners can take classes to learn about kayaking and water activities in the Lagoons, located within Presque Isle State Park. Classes are held all summer long and are relatively cheap. There is also a boat rental concession located in the Grave Yard area that offers an assortment of powered and non-powered craft. Although Presque Isle offers the most boat and kayak rental opportunities, there are numerous boat launches across the County.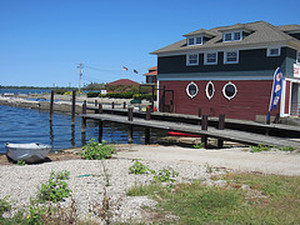 As an avid kayaker myself, I know how peaceful and enjoyable nature can be. Lake Erie is dotted with several islands and historical landmarks accessible by kayak and boat. There are also miles and miles of shoreline ready to be trolled by the next nature junkie, or really anyone who wants to let their hair down and have a good time. 
Unfortunately, AIS (Aquatic Invasive Species) have been giving our great waterways some problems. They spread rapidly into new locations causing human, economic, and environmental harm, and are an important threat being tackled. The Pennsylvania Zebra and Quagga Mussel Monitoring Network, for example, gives locals and even willing tourists the chance to get on a kayak and help the cause against AIS. These kayakers help by reporting or removing any harmful species, while still enjoying the endless beauty that Lake Erie provides.
Photos courtesy of Karen Coughlin, Carolyn McIntyre, and www.visiterie.com
Additional Resources:
Visit Erie PA: Visit Erie is a great resource for individuals of Erie to get a chance to learn more about our city. It has a variety of sources for boat and kayak rentals. It also offers links to find out more things to do, where to stay, getting around, where to eat, and upcoming events throughout the Erie area.
Aquatic Nuisance Species: This website discusses the educational aspect of aquatic invasive species. It is very educational, telling you the negative impacts these species have. It also gives you opportunities to join an organization in efforts to prevent the spread of AIS.
Boating and Kayaking, Erie Pa: This link is a great source for anyone looking to rent a boat or a kayak. It gives you locations of boat launches throughout Erie, primarily Presque Isle.
Sea Grant: Pennsylvania:This website is completely dedicated to protecting Pennsylvania's aquatic habitats from the threat of Aquatic Invasive Species, specifically quagga and zebra mussels.
Pennsylvania Fish and Boat Commission:Find out all of the locations to launch a boat in Erie County as well as permit requirements and water and ice safety tips.