Biking! Both Fun and Environmentally Friendly!
By Craig Schill
GreenEriePA Writer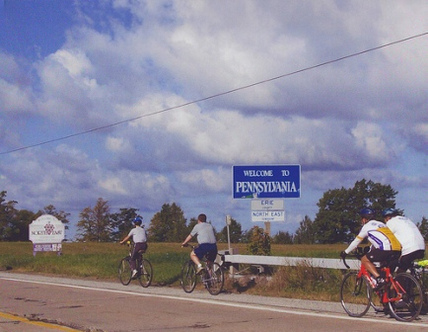 Getting out into the fresh air is great for your health and happiness. So instead of being bored using a machine in a gym, why not have some fun by biking outdoors? Not only can biking be a great form of recreation, it can also be a mode of transportation for going to work, school, or even just to the grocery store. An initial investment in a bike can save money in the long run but the health benefits make it an even better investment than you might think. Whether you like the serenity of natural scenerey or the bustle of city paths, both make for great biking outings. 
Here are just a few reasons why you should get out and ride: 
Biking is better for the environment than driving vehicles that utilize fossil fuels for power. You can reduce your impact and save money on gas at the same time.
It's a great workout for your muscles and heart, keeping you healthy.
Biking allows you to experience more of the county, getting you out of your car and exploring your world.
You might make some friends while on one of your many biking journeys.
Photo courtesy of VisitErie.com 
 
Additional Resources:
Global Road Safety Partnership
Bicycles | National Highway Traffic Safety Administration
Pedestrian and Cyclist Safety Guide
Safety Tips | Safe Kids Worldwide
The Events Calendar hosts information about many great bicycling events in the Erie community. More event information can also be found on Bike Erie's Calendar.
Bike Erie: The Bike Erie nonprofit group celebrates and supports bicyclists by encouraging businesses to provide bike racks on their premises, helping to create bike routes, and spreading bicycle safety awareness.
Presque Isle Cycling Club: Known as the Premier Bicycle Club in Northwestern Pennsylvania, the Presque Isle Cycling Club is devoted to holding biking events for those who enjoy the sport and want to meet others who share the same excitement.
Girls Gone Riding: The Facebook page for the group known as Girls Gone Cycle which was founded in 2008 with the purpose of forming a women's bicycling group in the Erie area.
PA Safe Routes to School Program: This federal program is devoted to the safety of children who want to bike or walk to school rather than ride the bus or drive.
Map My Ride: Includes a map and list of bike paths and locations to help you get biking in the city.