Asbury Woods Nature Center "A Natural Experience"
By Sherry Ziesenheim
GreenEriePA Writer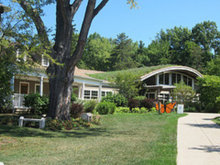 Asbury Woods Nature Center is devoted to spreading environmental awareness and promoting sustainable living. Steve Wasiesky, Executive Director/Education Coordinator, says the Nature Center is, "one of only two green buildings in the Millcreek Township School District." The Nature Center has become a role model for environmental stewardship and responsibility as evidenced by the wide variety of programming and educational materials made available to visitors at the center as well as online.
In November, 2005, the Nature Center unveiled a new 7,800-square-foot addition to its original 1930s cottage. The addition, featuring a 4,500-square-foot vegetative green roof, was founded on green principles identified by the Nature Center as the "4 Es":
Environmental impact
Economic value
Experience for the visitor
Educational value
Asbury Woods provides lessons for part of the Millcreek eighth-grade physical science curriculum with its Green Building Science Unit. The students learn both the purpose for and the science of living in a green and sustainable way. They also evaluate the Nature Center, assessing for themselves whether the green technologies are effective. Students take away from this unit new perspective and tips for greening their homes and schools. The unit addresses the Pennsylvania State Academic Standards for Science & Technology and Environment & Ecology. Watershed education programs are also available for sixth- and seventh-grade Millcreek students, students from other school districts, and for the general public. The center believes that being green includes not only the building, but the land and watersheds. Wasiesky reminds us, "Everyone's actions on a day-to-day basis affect the sustainability of our green efforts" and surely even in the larger context, our world.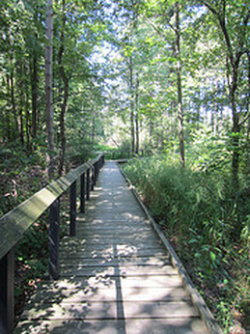 You do not have to be a Millcreek student to enjoy Asbury Woods, however. The 205 acres of fields, forests and streams offer a variety of natural and educational experiences for any age. Asbury Woods offers an innovative, nature-based pre-school program for 2-3 year olds and 4-5 to five year olds. School programs are available ranging from how animals use their senses to biodiversity and are available to public and private schools in the area. The Asbury Woods staff can also work with the teachers to design a learning experience to meet instructional needs. A variety of summer camp activities and programs for scout groups are also an option.
Adults may enjoy the courses on green building design, composting, or snow shoeing - to name just a few. There is a natural experience at Asbury Woods Nature Center designed for every age and nearly every interest year round. Popular public events include:
Schoolhouse Craft Festival in December
Winter Wonderland in December
Spring Maple Festival in April
Asbury Woods Summer Ridge Run
The facility can help organize your scouting troop or field trip group, as well as neighboring school field trips. Families can schedule birthday parties and a conference room is available for small meetings.
After hiking the scenic trails, visitors can relax inside the newly restored former screened in porch of the old cottage. Or, they can browse the gift shop for a large selection of beekeeping supplies, field guides, and other nature-related arts and crafts.
The Asbury Woods Partnership, who organize and provide the public programming at Asbury Woods Nature Center are adding more programs, events and festivals throughout the year.
Additional Resources:
Check out the latest Asbury Woods Nature Center events and consider supporting this local treasure through an Asbury Woods Nature Center membership or through its many volunteer opportunities.
To learn more about the green building project, click here to view The Asbury Woods Green Building Pamphlet.