Transforming Our Neighborhood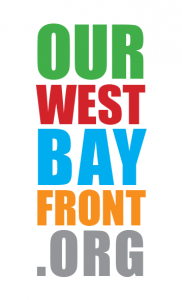 By Sara Borro
Gannon University Student
Our West Bayfront is a local organization that is working to revive, revitalize, and preserve much of the Western Bayfront area of Erie. In 2012, the West Bayfront Planning Collaborative received a Great Ideas Grant that was used to fund and develop an initial plan for developing various neighborhoods surrounding the downtown area.
The development of this initial plan is what officially gave Our West Bayfront its current identity. This initial plan also established that OWB would encompass the area from the lake southward to West 12th Street and from the Bayfront Connector eastward to Sassafras Street.
The mission of Our West Bayfront is: "to enhance the quality of life in Erie's West Bayfront neighborhoods by promoting civic involvement, thoughtful development, historical preservation and neighborhood pride."
In 2015, to further the efforts of the group, Our West Bayfront began with a request for proposal of a five year strategic plan and a one year implication strategy for revitalization and development of the Western Bayfront area. In July of 2015, a pre bid conference was held regarding the plan. The following August, City Architecture, a Cleveland based company that works to develop and innovate cities, was awarded a contract and the go-ahead to begin creating the actual strategic plan.
The next several months consisted of consultants from City Architecture holding meetings with residents, local businesses, and community organizations. With the help of the consultants, Our West Bayfront had the potential to do monumental things for the area, but it was important to the organization that they received and were receptive to feedback from people who call the western Bayfront area home.
After multiple interviews, meetings, and drafts of the plan, a final plan was presented to the public on June 30, 2016, and the consultants also offered ideas and discussed multiple ways for Our West Bayfront to successfully implement their plan.
The Our West Bayfront area consists of 843 acres of land and more than 13,000 residents. Because this area is so large, it was subdivided into 10 focus areas. These focus areas were determined and selected due to their possession of proposed or existing neighborhood assets. When developed, these assets could be catalysts for further development of the surrounding areas.
The strategic plan created six categories to help direct progress initiatives within each focus area. The two very large and especially important categories are Parks and Public Spaces and Local Businesses.
Parks and Public Places is the category that will dictate the development of recreational facilities, community gardens, landscaping, and park features and amenities. The development of recreational places will create opportunities for individuals to build connections in the community as well as offer additional activities for portions of the population that are currently underserved.
The development of local business is quite arguably the most vital area to be improved upon in the Our West Bayfront area. This specific portion of Erie lacks a grocery store and thus lacks access to fresh and healthy foods. This is currently a huge problem for residents of the area, many of whom are not easily able to transport themselves to a grocery store outside of their neighborhood. The development of small business and the addition of a grocery store in this area will allow the neighborhood to become a more complete place that is more supportive of those who reside there.
Our West Bayfront is tirelessly working to better the neighborhood, but they are also very dependent on community involvement. If you would like to learn more about this project, or if you would like to lend a hand in helping this very important initiative, contact Candace Battles (candybattles@aol.com) or Erika Ramalho (ramalho001@gannon.edu) for more information. Additionally, the Our West Bayfront website can be accessed here.