Preservation Erie
By Alexa Colao 
Gannon University Student Contributor 

As you're going through downtown Erie, it is hard not to notice the unique architecture of the many buildings that line the streets. This town is rich with history that can be seen through the various theatres, mansions, shops, and more that were built during the nineteenth and early twentieth centuries. What may not be as obvious is the work and dedication that goes into keeping these buildings safe from demolition and in proper condition. The organization at the forefront of this effort is Preservation Erie.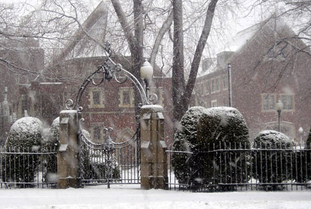 The board of Preservation Erie is made up of volunteers who live and work in Erie and have a deep appreciation for the built environment. These are people who have ties to this town and Erie's best interest in their hearts, visions of a bright future in their minds, and plans of how to work towards it. The unique infrastructure of this area is at the core of their visions and plans. Some of the places they have already worked to save from destruction are Roosevelt Middle School, the Villa Chapel, and the Gannon University TKE house. Though all needed to undergo renovations, the end results were beneficial to Erie and its residents. Roosevelt Middle School and the Villa Chapel have multiple repurposing schemes being considered. The TKE house has been transformed into a Forensic Investigation Center for Gannon University and its criminal justice students. These are just the beginning of the positive effects the renovations of just three building are having on the well-being of the city.
Melinda Meyer, the president of Preservation Erie, says that the benefits that stem from historic preservation go far beyond the wood and bricks. It is about involving the community in making plans for the city and includes economic and environmental benefits. Renovating and repurposing buildings require a lot of skilled labor, which is acquired locally. Also, a few new materials need to be brought in, which makes renovating and repurposing more environmentally-friendly as well. As Melinda Meyer and board member John Vanco like to say, "The greenest building is the one that is already built." These historic structures are also aesthetically pleasing, making the city of Erie a more attractive and appealing environment for current and potential residents. In addition, the presence of historical structures serves as a unique educational tool by keeping pieces of our history functioning parts of our community today. 

If Erie's historic buildings interest you or you agree with the many benefits that come with historic preservation, there is a way to get involved. Preservation Erie consists entirely of volunteers and they are able to find work to suit every volunteer's strengths. To contact them or learn more information about Preservation Erie, visit their website.
Photo of Villa Chapel, a Preservation Erie site