The Northwest Pennsylvania Green Economy Task Force (NWPAGE, Pronounced "New Page")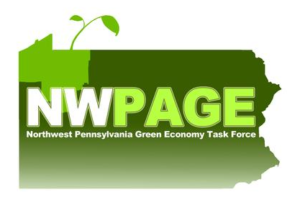 By Steve Porter & Joy Knapp
NWPAGE Co-Chairs
The Erie region's economy continues to undergo profound changes. The Northwest Pennsylvania Green Economy Task Force (NWPAGE) is a network of individuals, organizations, and businesses that see both a solid base and bright future for significant regional development of the green economy. NWPAGE is a strong and consistent collective voice on sustainability issues in Northwest Pennsylvania.
NWPAGE seeks to fill a gap in the Erie region by providing a network to highlight and promote the development of the regional green economy. It seeks to focus public attention on both existing examples of the local green economy and on the need for proactive efforts to encourage and foster further development in this sector in Northwestern Pennsylvania. In addition, NWPAGE provides a venue for those current leaders of the local green economy to share experience and synchronize activities to further develop this vital sector of the 
economy.
NWPAGE was first formed in 2008 following a Clean Air Council (CAC) sponsored forum on the green economy hosted at Mercyhurst University. In 2012, the network was rejuvenated with a strategic planning process that helped sharpen the focus of the group. NWPAGE provides a vehicle for those seeking to highlight and promote the development the Erie region's green economy.
NWPAGE continues to support the development of renewable energy in the region by sponsoring round table and public events to highlight the environmental and economic benefits to the region, which includes the Lake Erie Energy Development Company (LEEDCo) project Icebreaker, the offshore wind energy pilot project, currently in development off of Cleveland's shores. Recognizing the real local benefits of developing offshore wind, in April 2015, Erie County Council unanimously voted in favor to join the board of LEEDCo, representing a strong local commitment to this effort. Fostering this relationship has been a primary focus of NWPAGE's efforts over the past three years.
In addition, NWPAGE continues to participate in community development and planning initiatives like Emerge 2040 and Erie Vital Signs to ensure that they capitalize on opportunities to build a more sustainable and resilient future for the region. A partnering organization in the Erie County Community Resiliency Workgroup, NWPAGE serves a role in implementation of recommended outcomes from the Emerge2040 planning process, which include climate action planning and the accelerated effort to develop renewable energy, specifically regional opportunities for solar, wind and energy efficiency improvements.

Logo used with permission