Neighborhood Cleanups
By Craig Schill
GreenEriePA Writer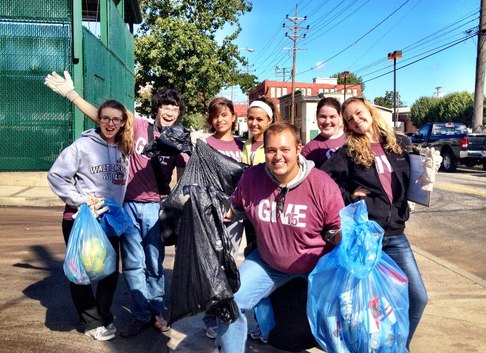 Neighborhood cleanups bring members of a community together, typically collecting bulky items not accepted by the neighborhood refuse collector. Residents dispose of unwanted items, discover recyclable treasures, and bond over a more visibly appealing neighborhood. As a volunteer-oriented endeavor, it gives residents a chance to give back to the community and helps to keep that community green! As well as cleaning up bulky items, volunteers could also come together for trash pick-ups, which involves walking around the community and picking up trash. 
In Erie, there is an annual spring cleanup where community members can dispose of bulky items just as if it was the weekly trash. There are also local schools such as Gannon University that have events such as GIVE day in the fall every year where members of many organizations come together to help clean up different areas around the city. Groups of individuals from around Erie have also worked alongside one another to accomplish the same sort of clean up routine. 
It only takes one person to get everything started, but it takes the work of many to keep the program progressive. A few things to consider are who, what, where, when, why, and how.
Who are the volunteers that will be involved, and who is overseeing the program? The number of volunteers and who is running a cleanup are very crucial in making it successful. Make sure everyone involved is dependable and hard-working.
What jobs, tools, and clothing are necessary? Division of labor is important for ensuring all the works gets done, so everyone should know his or her job before beginning for the day. Tools used to pick up heavy objects may be needed as well, and dressing for the potential of inclement weather is also a must.
Where will everyone meet to start the day, and where will each group be needed? Organization is key for efficiency so that everything is done in a timely and orderly fashion.
When will the cleanup occur? Advertising the event and communicating it to all volunteers is vital to including many helpers as possible and avoiding confusion.
Why join in a neighborhood cleanup? The most important question. Answer: It is great for both the community and the environment!
How do I get involved? The best way is to do research or ask around. If no program exists in your area, start one with some friends!
Why Should I Get Involved?
Neighborhood clean-ups are an excellent way to give back to the community.
Many items that are seen as garbage actually become recycled and thus it is good for the environment.
Gives residents the opportunity to dispose of large, unwanted items once a year.
Great way to register volunteer hours for local school groups, etc.
Meet new people who share the same ideas about being green.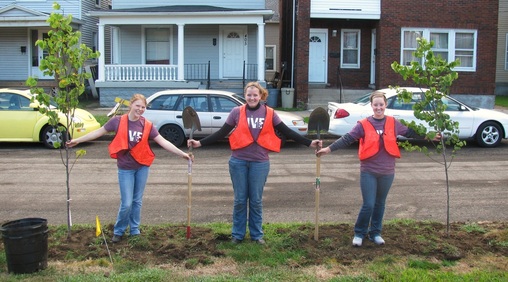 Photos courtesy of Jessica Hubert of student neighborhood cleanup on Gannon's annual GIVE Day