Here's the Buzz: North Western PA Beekeepers Association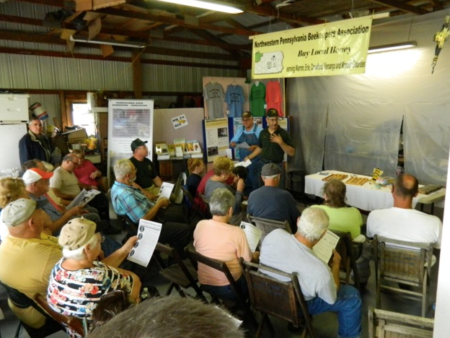 By Kate Robb, Gannon University Student
The North Western Pennsylvania Beekeepers Association (NWPBA) has a sweet history, recounted by former president, Charles Vorisek.
In the 1980s the original NWPBA disbanded after membership rates declined because of aging members and pest infestations in bee colonies. Through the urging of a County Extension Agent, Mr. Vorisek ran a sign-up at the 2000 Crawford Country Fair to start a beekeeping club. To his surprise, he received nearly 70 responses that indicated interest. Since January 2001, membership has grown to roughly 200 members.
Although Mr. Vorisek has since stepped down from his position as president of the NWPBA, he currently serves as president of the Pennsylvania State Beekeepers Association. The NWPBA organization is now under the current leadership of President Paul Gorlowski and Vice President Charles Schroeck.
Mr. Schroeck began beekeeping in 1980. His neighbor was a beekeeper, and that neighbor's hive had recently sent a swarm to his property. A swarm occurs when an existing hive raises a new queen and half of the old colony travels with the old queen looking for a new home. He remembers, "I had just planted some fruit trees and thought it might be a nice to have a bee hive for pollinating."
He quickly fell in love with his new hobby, and encourages others to try it out for themselves. Mr. Schroeck says that bees generally take care of themselves, and the hobby pays for itself through the generation of honey. He says, "An examination of the hive every couple weeks is all that is necessary. The bees would probably prefer we leave them alone."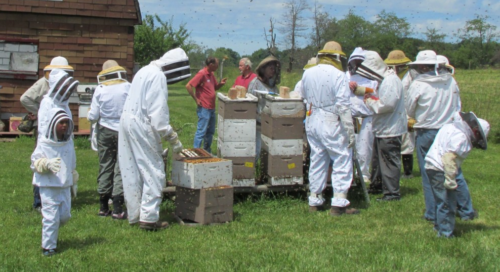 Many may worry about the bees' ability to survive in harsh Erie winters, but Mr. Schroeck assures this should not be a concern. He claims, "Bees seem to tolerate the Erie winters… Last year was mild, but the previous years were much more severe. For reasons I can't explain, they did better in the more severe winters…"
Not only is beekeeping an interesting hobby, but it has wonderful impact on the environment. All types of bees are effective pollinators and have a major influence in the growth of produce and fruit. By keeping bees, one assists with supporting the survival of bees. This becomes an even more prevalent issue as media hype continues to surround the potential effects of the extinction of bees.
If one can simply cannot have a hive of their own, Mr. Schroeck offered some advice, "Lawn care services help homeowners keep a pretty, green lawn, but they kill off many of the other plants that provide food for bees… People also need to be careful with the use of insecticides. Never use them near plants and trees that are blooming."
For those who are interested in beekeeping, the North Western Pennsylvania Beekeepers Association is here to help. Dues are only $10 per year, and comes with a plethora of benefits. As Mr. Schroeck claims, "There are usually interesting speakers and an opportunity to socialize. There are a lot of new beekeepers and experienced beekeepers in attendance." For more information, please visit the NWPBA website.
By joining the NWPBA, one is connecting to a community of dedicated individuals who can help and support beekeepers who range from beginners to professionals. Give it a try, and see what all the buzz is about!
Photos courtesy of the North Western PA Beekeepers Association