Erie's BEST Green Initiative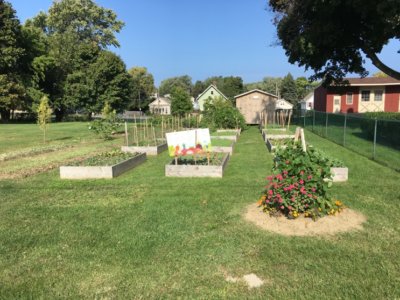 By Brandon Feikles
Gannon University Student
When you hear neighborhood watch, what comes to mind? Cooperation, task force, neighborhood engagement, solidarity within a community, upkeep, long term goals, improvement of life – all of these things could be possibilities. In Erie there are several non-profit organizations, but one specifically encapsulates what it means to be a force for the betterment of a certain community. Located between Holland and Wayne Streets from East Sixth to East Front Street, BEST, or the Bayfront Eastside Task Force, is a non-profit organization that aims at working with local businesses and its neighborhood residents to revitalize a single neighborhood: Erie's Historic East Bayfront where Erie was founded over 200 years ago. Beginning in 1978, BEST worked first with problem bars around the State Street area, moved into silence through the 80s, reemerged in the 90s, and settled into the 25 block neighborhood where it occupies today.
In learning that BEST deals primarily with neighborhood restoration, I initially did not understand how the GreenErie initiative would be supported. However, in conducting an interview with Paige Bosnyak, BEST's project director, I came to find that inside BEST's restorative and revitalizing attitude comes a large element of "green space" promotion. These recent green projects include community gardens, and an urban orchard. In addition to taking care of the environment, these projects include working with minority groups (mainly refugees) in the local area to give them opportunities to work, to gain fellowship networking and community, to learn about the environment and the culture of Erie, to develop an identity, and to practice their English speaking skills. In a special way, BEST's green projects don't just promote health for the environment, but also promote social change and increased quality in community life.
The Community Gardens
The community gardens, located throughout the 25 block radius of the area, contain fruits and herbs such as blueberries, raspberries, elderberries, which grow in raised garden beds. These gardens are all preserved by the families living in proximity to the garden, mainly Nepalese and Bhutanese refugees.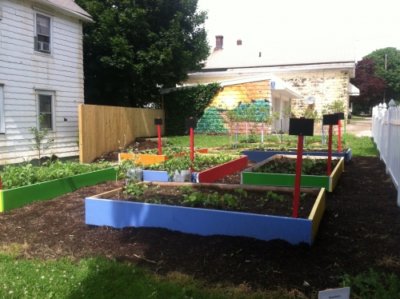 Fruits, vegetables, and an apple tree growing in the 4th and Parade Street Garden.
Another community garden, often referred to as the International Family Garden, is located on 5thStreet between German and Parade Streets (pictured at top of page). This project is more geared to bring minorities together through food unity and cultural relationship.
The Urban Orchard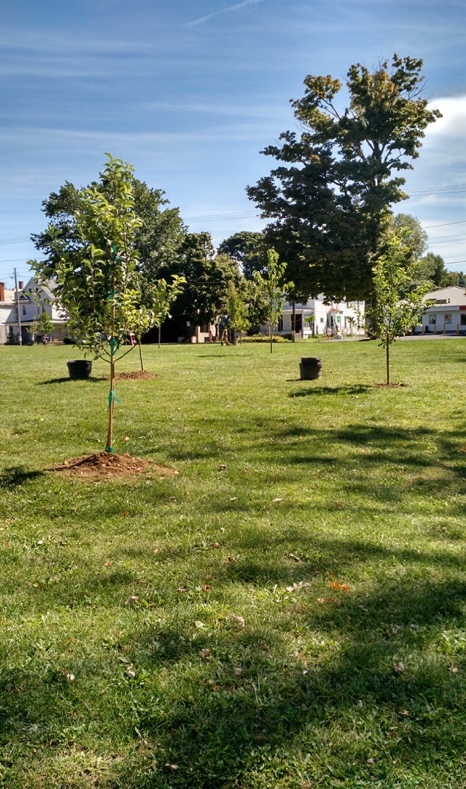 Lastly, the urban orchard located on the corner of 5th and Parade street, contains around thirty-eight different fruit trees, such as apple, pear, cherry, and peach. BEST sponsors a farmer's market here each Saturday from June through October. Called "Arts and Eats", this market serves as a way to offer fresh fruits and vegetables at affordable prices.
With grant funding and following the vision of "neighbors" in the community, BEST is aiming at improving all projects as they plan to better their community through all inclusive restoration and revitalization. Community partners such as the Erie Community Foundation and Erie Insurance have funded, aided, and worked with BEST on projects. Volunteer groups throughout the Erie area such as Gannon University have also joined with BEST to raise awareness, engage in projects, and defend BEST's mission. BEST has been a positive influence in Erie, and with the future help of our local community, will continue to thrive as a haven for Erie living.