"The Future of Energy" Film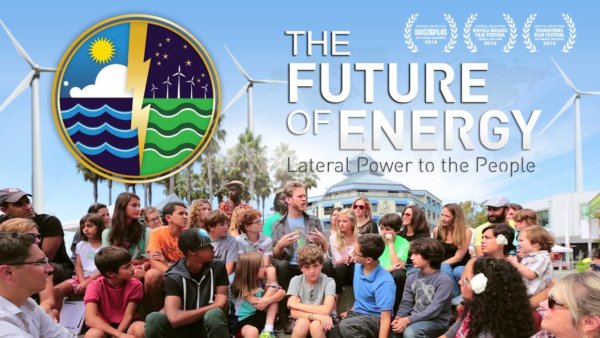 By Catie Strout
GreenEriePA Intern
On April 20, 2016 in Gannon University's Zurn Science Center, the film The Future of Energy: Lateral Power to the People was shown to the general public, free of charge. The Future of Energy is a recently-released, independent documentary. It was directed and edited by digital media activist and award-winning director Brett Mazurek and written and produced by planetary advocate Maximilian DeArmon. "Featuring some of America's top energy specialists and ecological visionaries," its website states, "this film presents a clear path towards a new energy paradigm, and how each of us can participate in creating this exciting future." The Future of Energy centralizes on several communities across the country that have successfully developed and implemented renewable energy sources.
The Future of Energy was presented to the public by the students in Dr. Michelle Homan's Introduction to Environmental Science 2 class. In this course, the students focus primarily on climate change, fossil fuel use, and renewable energy. The idea to showcase a film involving the topics covered in class was actually proposed by the students. After choosing to continue on with this plan, they compiled a list of potential films and viewed them in class. The students decided on The Future of Energy because they felt that it was the most inspirational film with the strongest, positive message.
According to Dr. Homan, The Future of Energy's uplifting spirit can empower people and communities to generate their own renewable energy sources. Our supply of fossil fuels is dwindling quickly, and it is essential that renewable energy sources be available to protect the future of our planet.
Photo courtesy of The Future of Energy's Facebook page