Erie County Energy Efficiency Call To Action
By Jessica Gaffney
GreenEriePA Intern
Last month, the Green Building Alliance hosted Erie County Energy Efficiency Call to Action at Erie Insurance. Several speakers addressed the ways that their businesses/organizations are working to be more energy efficient and environmentally friendly. The group also toured Erie Insurance's Training Center, a LEED Gold certified building.
Guy McUmber, GBA's regional director, introduced the event, explaining the importance of energy efficiency and GBA's plans to contribute to energy efficiency. In addition to stopping waste, energy efficiency can also improve the economy by creating jobs. GBA has begun the EASY program which is working with municipalities for energy efficiency. He encouraged the audience to get their municipalities on board with the program.
Leslie Montgomery, also of GBA, spoke about Pittsburgh's 2030 project and its challenge to achieve 50% reductions in energy use, water, consumption, and transportation emissions by the year 2030. One of the highlights included how many Pittsburgh businesses that might normally be in competition with one another are working together to achieve this goal and each one can do it in their own way.
John Vanco, director of the Erie Art Museum, discussed the Erie Art Museum's environmental actions and energy efficiency. Last year, the Erie Art Museum won the Sustainability Excellence Award from American Alliance of Museums for its environmental programming. The Erie Art Museum is also LEED certified at the Gold level. He said that the museum spends less than $1 per square foot on utilities as compared to the $2.20 per square foot spent by other similar commercial buildings around the country, and less than $1 per square foot for maintenance and cleaning, compared to the national average of $3.50.
Considering this planet is our home, Sister Pat Lupo believes that we have a moral obligation to care for the planet. The Benedictine Sisters of Erie have signed the Interfaith Power and Light Pledge presented at the Climate Talks in Paris for a 50% carbon reduction by 2030 and 100% reduction by 2050 compared to 2005 levels. The group is also investigating educating on energy efficiency, documenting data of energy usage, calculating carbon offsets, and purchasing green power.
Erie Insurance Vice President in Environmental Management Gary Diley spoke about their efforts as well. He pointed out that, for businesses, the emphasis is on the bottom line and any efficiencies need to keep the needs of workers in mind and have a good return on investment. Erie Insurance has managed to lower its energy usage every year since 1995, even with the addition of many computers and technical innovations. The company has been using LED lighting, lighting vacancy systems, recycled materials, and recycling materials, among other things.
The event concluded with a tour of the Erie Insurance Technical Learning Center. Throughout the building there were signs indicating measures taken for the building to be LEED certified.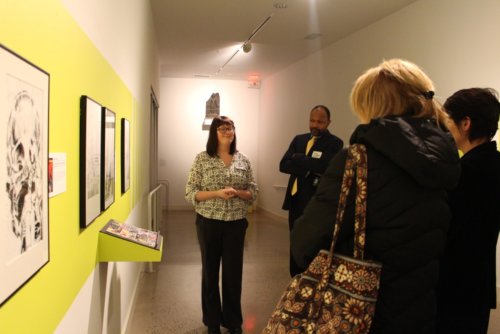 Photos courtesy of Nicole Krahe