LEED (Leadership in Energy & Environmental Design)
By Honey Stempka 
Former Green Building Alliance Northwest Branch Director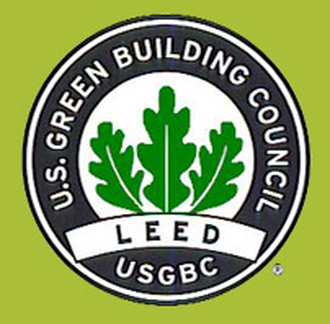 What is LEED Certification?
According the United States Green Building Council (USGBC), LEED (Leadership in Energy and Environmental Design) is a "voluntary, consensus-based, market-driven program that provides third-party verification of green buildings." The LEED certification acknowledges that a building is minimizing its impacts on the environment and decreasing its energy use through specific design and operation guidelines. The LEED specifications can be used to make changes to existing structures or in the construction of new buildings. By following these guidelines, buildings can minimize their impact on surrounding land, reduce waste production, improve indoor air quality, and decrease energy and water use. 
Any type of building, from individual residences to municipal buildings, can choose to become LEED-certified. The number of LEED-certified buildings is on the rise in the Erie region. According to Honey Stempka, Former Director of the Northwest Region of the Green Building Alliance, there are six buildings that have obtained their LEED certification and a handful more in the process of garnering their LEED designation. In addition to reducing their impact on the environment, LEED-certified buildings also save their owners money over time, so it is expected that the number of certified buildings in the area will grow steadily.
Benefits of LEED Certification:
Decreased operating cost
Healthier for occupants
Increased asset value
Tax rebates, zoning allowances, and other incentives (depends on area)
Reduced environmental impact
How Do You Become LEED Certified?

The U.S. Green Building Council's website's "Certification" page provides information on the certification process and applicable ratings systems in addition to the application and development of LEED. As mentioned above, LEED certification can be obtained by any type of building project, even making alterations to existing structures. LEED certification is awarded based upon a points system, with the points required to obtain certification dependent upon the type of project. The points are divided into five main categories: 
Sustainable Sites
Water Efficiency
Energy & Atmosphere
Materials & Resources
Indoor Environmental Quality
There are also categories that apply to neighborhood development projects. They are:
Smart Location & Linkage (This credit can also apply toward LEED for Homes.)
Neighborhood Pattern & Design
Green Infrastructure & Buildings
Credit can also be obtained in the LEED for Homes category by providing awareness and education opportunities to homeowners, tenants, and building managers.
There are also two bonus credit categories: 
Innovation in design or operations
Regional priorities
The level of LEED certification that a building can obtain depends on the total number of project points achieved:
40+ Pts: Certified
50+ Pts: Silver Certified
60+ Pts: Gold Certified
80+ Pts: Platinum Certified
For more information, visit the USGBC's website to find the rating system specific to your project type. Here are a few example steps toward LEED certification:
Water conservation through water collection systems, more efficient fixtures, and improved landscaping
Energy-efficient lighting systems or utilization of more sunlight with the installation of windows that allow more light into the building during the day
Implementation of cleaner energy sources, such as geothermal energy
Use of recycled materials in the construction of the new project
Integration of automatic control sensors to adjust air quality indoors and increase ventilation efficiency
LEED Buildings in the Erie Area:
Asbury Woods Nature Center
Erie Art Museum
Erie Insurance Training Center
Flagship City Apartments
James S. Wilson Middle School
Kohl's Department Store (Certified)
Metzgar Admissions & Alumni Center, Penn State Erie, The Behrend College
PNC Bank, Erie Branch (Certified, Silver)
PNC Bank, Millcreek Branch (Certified, Silver)
Renaissance/Palace Centers
Residence Hall, Mercyhurst University
Student Housing, Mercyhurst University
St. Vincent Hospital Infill Building
Tom Ridge Environmental Center (Certified, Silver)
Logo used with permission.