Green Cleaning
By Ann Bomberger 
GreenEriePA Editor 
How to Clean Green
Green Cleaning is "cleaning to protect health without harming the environment." A Green Cleaning program goes beyond chemical and equipment choices. It includes policies, procedures, training, and shared responsibility efforts that "minimize the impact of cleaning materials on the health of building occupants and protect the environment as a whole," according to the Green Cleaning Network.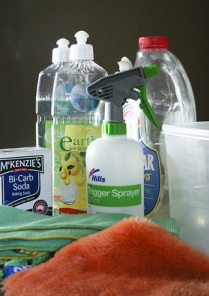 Why Should I Consider Green Cleaners?
Reduce the number of toxic chemicals in your home or business. Some traditional cleaning products have been linked to dermatitis, asthma, and hormonal system complications.
Protect people who use the cleaners regularly. "Members of the custodial staff, especially women of child-bearing age, are particularly susceptible to health problems caused by their frequent and close interaction with cleaning chemicals and equipment. In fact, six out of every 100 custodians are injured on the job each year," according to Green Clean Schools.
Lengthen the life of surfaces that are cleaned regularly
Help protect the water supply
Some Local Suppliers:
DeSantis Janitorial Supply carries Enviro Solution products.
2724 W 8th St, Erie, PA 16505 
(814) 835-1707 
Shannon DeSantis, (800.942.1656), does presentations all the time with knowledgeable assistants. 

Janitors Supply carries Spartan green products.
540 East 2nd Street · Erie, PA 16507 
(814) 459-4563 ♦ Fax: (814) 456-6240
Photo used under Creative Commons by Go_Greener_OZ