Seaway Windows
Made in Erie
By Carolyn McIntyre
GreenEriePA Writer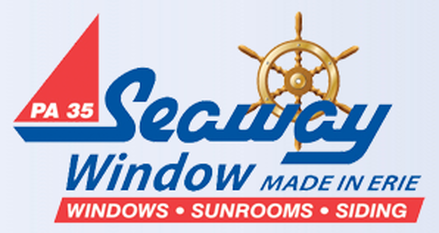 With more and more homeowners interested in energy-saving improvements, Seaway Windows uses an Energy Star rating to promote the energy savings quality of its locally made products. Energy Star is a government-backed and endorsed symbol that ensures consumers that products bearing it are energy-savers.
"A home that replaces all its windows and doors can save approximately 20% in energy costs," according to Seaway sales and marketing manager Paul Komorowski. In order to ensure energy savings and quality, "Seaway Crews are trained and certified through American Window Door Institute, the American Architectural Manufacturers Association and the EPA Lead Renovation Rule," he said.
Establishing its business locally in 1959, Seaway Windows got its start as Seaway Aluminum, specializing in the manufacturing of aluminum storm windows and doors. Over the years with the advancement in technology Seaway Aluminum changed its name to Seaway Windows, specializing in windows, doors and sunrooms. Today the company is proud of its high quality "made in Erie" product. Seaway has a continuous record of improving its products using state-of-the-art technology and a superior design. The company uses a virgin vinyl material to make its products. This material gives the best performance in high and low temperatures that could cause expansion and contraction, making Seaway products energy efficient. The company can make a window for any size the consumer needs. The leftover cut pieces Seaway accumulates are sold to a recycler.
For energy saving products and ideas go to:
Seaway Windows: Information about all the products they offer including windows, doors, sunrooms and much more.
Energy Star: Energy Star rating specifications for products and tips on energy savings.
Website and Contact Information