Erie Insurance
How Businesses Can Create a Happier Work Experience for Employees
By Chloe DiRaimondo
Gannon University Student Contributor
Did you know that working in a pleasant and inviting workspace is statistically proven to increase employee productivity? A great way to make a work space more inviting is to be environmentally friendly. Erie Insurance has caught on to this notion and is working to create a happy and Eco-friendly work space for their employees. Gary Diley, Vice President of Environmental Management at Erie Insurance discusses the little changes that can have great effects on their employees and the planet.
Lighting
Natural lighting has benefits that range from improving mood to enhancing our ability to produce vitamin D. When the Perry Square building was being planned in 1980, it was decided that access to natural light and views were important. This decision has also been helpful in their mission to go green. The presence of natural light allows the company to use less artificial light and less energy. Erie Insurance also uses daylight sensors and dim-able lights to reduce energy needs.
Cleaning Products
The majority of cleaning products on the market today are harmful to the environment and humans. Erie Insurance recognized that daily reintroduction of these products causes harm to the employees, the environment, and especially the cleaning staff. It was more of an ethical decision to switch to Eco-friendly products. Eco-friendly cleaning products have been tested to assure quality of cleanliness and yet some are still safe enough to drink (but that is not recommended). The usage and storage of these products creates a much safer environment for employees.
Recycling
According to Diley, Erie Insurance has been actively recycling for at least 15 years.
Throughout the years, many changes have been made to benefit the environment and workforce.
All documents that are sent to the printer are defaulted to print double-sided. This drastically cuts down on the usage of paper. All paper is recycled. The recycled office paper is first shredded and sent to one of two different paper mills. Other recyclables are collected in a single stream and sorted at an automated Waste Management facility in Ohio.
Eco-friendly Kitchen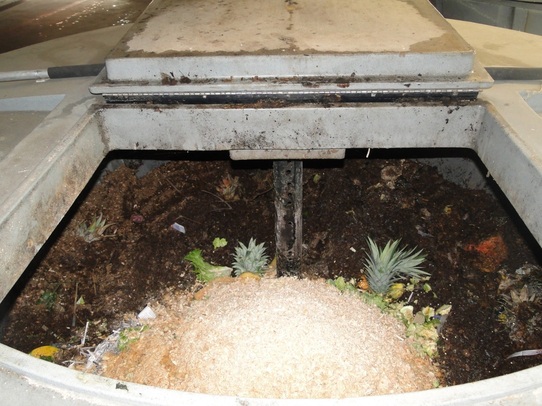 Erie Insurance, working with Metz their food service provider, has removed foam cups and products from their offices, replacing them with paper. This keeps 250,000 foam cups out of landfills each year. For the future, Erie Insurance is also looking to use China plates in their dining facility, rather than throw-away plates and utensils. This change would be significantly be better for the environment and provide a more enjoyable experience for the employees.
All trash cans are labeled with recycling reminders and lined with biodegradable trash bags – but it does not stop there. Pre consumer kitchen waste including vegetable matter, dairy products, bread, and similar items have a unique, alternative purpose to Erie Insurance. Barely hidden on-site are two large composters. These composters turn the kitchen waste, essentially, into mulch. About every month, this produces roughly two cubic yards of compost. Not only does Erie Insurance keep that waste from being tossed into a landfill, but they also buy less mulch.
Energy
Erie Insurance has managed its energy for thirty years and in a targeted way for twenty years. The company sub-meters to know where the energy is going to. Diley provided a specific example. The building's data center consists of .5% of space and yet consumes 11% of electricity. The company combats that by providing more efficient servers and cooling arrangements that make use of mother nature. The company is assisted in its energy management efforts by partnering with the EPA Energy Star program which Erie Insurance has been using for the past 8 years to monitor energy and obtain ideas to improve performance.
Erie Insurance provides great examples of how you can create a better workspace and living environment. From simply changing the light fixtures, you could see a difference in mood and help the environment. Remember that even little changes can make a world of difference. 
Website and Contact Information
https://www.erieinsurance.com/
Erie Branch Claims Office
P.O. Box 13002
Erie, Pa 16514-3002