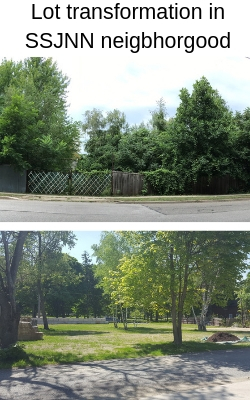 Environment Erie received the 2019 Governor's Award for Environmental Excellence for the collaboration with neighborhood organizations to reclaim vacant lots. The project partners include: SSJ Neighborhood Network, Our West Bayfront, ServErie, Academy Neighborhood Association (Erie, PA), Bayfront East Side Taskforce.
Each lot is as unique as the neighborhood itself and is the result of the vision of the neighborhood organization leadership and residents. Some amenities installed include community garden beds, an outdoor play space, a walking path, benches, and a little free library.
This collaboration implements strategies to tackle blight and reduce underutilized lots as encouraged in many of the Erie community plans such as Emerge 2040 and Erie Refocused. Resident remarks as the lots were in progress include:
"Can we put another one of these down the street?"
"Thank you so much for an area that we can appreciate and an area for our grandkids to play in."
This collaborative effort is important to combat blight and make Erie the community to live, work and play.
Some of the project impacts are:
70 Residents were involved in the planning and implementation process
1,969 square feet planted with native plants and edibles
17 community garden beds added
Thanks to UPMC Health Plan and PA Department of Environmental Protection for funding this collaboration.